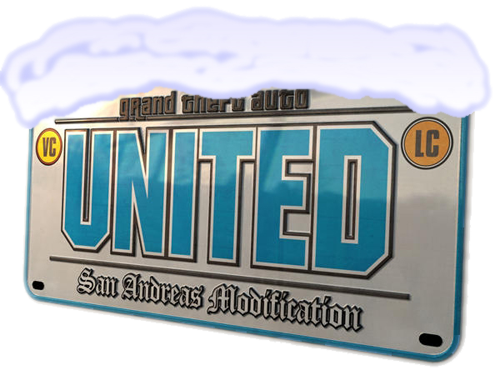 ... now that the winter vacation is over it is right about time to start into the new year with showing you some progress of the modification. But first of all we hope you had a great christmas and new year's eve. We all wish you the best for the new year, especially personal luck and health. Also we want to thank you for more than 20.000 views on our
DevPage
.
For GTA United 2010 gets an important year. A timeline gets more and more solid and we are aiming for an huge beta test around this year ending in the long estimated release of version 1.2. A lot of things have changed the last time since we brought the last news to you over half a year ago. We want to use this announcement to brief our work of the last month and give you a short insight into the near future of the mod ending in the beta testing stage mentioned above.
Conclusion
Well the last month have been used to change a lot of backround stuff of the mod to get it more and more stable and in this view there is 1 milestone open which comes around with some coding work. Basicly this is uninteresting to you since we still do not know if it really helps our target. Anyway this change will be one of the last ones before the beta stage starts. But what we've done was: changing the whole ID system and reorganize it so that there is more space for adding cars and pedestriants and stuff. Also we cleaned up unused objects and merged some models. This gives us more space for further steps e.g. adding new map parts like San Andreas. Still there are to much limits blocking this plan, but basicly we got enought space to add the map.
Another important milestone is the reorganisation and debugging of the scriptbackround. We are using an not very well known way of scripting for a better source organisation which helps us to debug the script in a better way. We are able to disable and enable several parts of the script in general without removing many parts what makes it pretty easy to test the interoperation of specific parts of the script. Recreating the script was an huge step, but it also was very important and in the end we and you can only take profit from this decision. We also decidet to remove some existing parts which we didn't like so much and add new parts to approach the modification to the original game. For example we replaced the ferry by a plane script, or we have added some new scripts like the beach party and the lowrider meeting script. Also we are now using some
CLEO
technologies to get a better control of some parts of the game which are unsupported by native
SCM
. To name an example in here is a more realistic weather appearance.
The most important point which is still left open is memory manipulation. We decidet to add some stuff what was impossible for now in modding to stay on a up-to-date niveau of modding. As the first mod using the
Limit Adjuster
we want to continue this way. Anyway this is the most dagerous part because it causes many incompatibilities between several systems. You may have allready recognized that previous versions of GTA United crashes on many systems. This is usually caused by too much memory manipulation. With 1.2 we reduce the extern memory manipulation by introducing an experimental new technology that patches your game to fit with the modification, instead of hooking it each time you start it. The last way may be blocked by security software and we also already found some of those problems with introducing CLEO to our modification. Anyway for most of the crashes with the new versions there are workarounds. If they really work the beta testing stage will show.
One last important thing with new stuff is the new installer. We do not want to say many things about it since we already did in the previous news. Basicly it simplifies the modifications installation to an very easy level so that there should not be many problems with it.
What has been done the last weeks?
The last weeks brought up some new interesting stuff to the modification. In the field of mapping we finished the detail remapping milestone. With
Shoresite Vale
the last part of
Liberty City
got filled with missing details and models. Now the game looks like their ancestors did. But this is just the base for what we want. We want to bring the look to a level of
San Andreas
. This is why there are still 2 milestones missing in here. First of all we are going to create a new seabed the next weeks. Also we are customizing some of the models (e.g. missing roofs in Liberty City). And finally we are adjusting some smaller stuff like water and weather appearance.
Also the script and new graphics have been finally added to the current internal version of the modification which brought up another internal testing version of the mod. Here you find some screenshots:
To come to an end we hope that progress goes well the next weeks. We will talk about the beta testing stage and how people can get nominated for it. We will create some bug tracking system for it and we will need a platform for comunication for the testers. But this will not happen during the next weeks since it depends on the whole progress of the modification, so please do not send us applications or personal advertisement. Of course we will inform you about this later on!
For now we wish you all the best for the new year and want to thank you for your patience and loyality.
Happy Modding in 2010!
- Yours GTA United DevTeam.