Spring has just begun and for the seventh time, we are pleased to present you the latest about our new upcoming version 1.2 of GTA United. We were able to make great improvements in developing again, so it's about time to present things. At this point we would first of all like to discuss the most interesting question that everyone comes in mind first; when will the release of the new version be? So far, we could not answer this question, because we did not know ourselves. We have and always had high expectations for ourselves, to create a completely new experience that can not be compared with the previous versions, and given the fact that it has exceeded even our initial horizon, the development of the modification takes a long time and is difficult to predict. This fact unfortunately hasn't changed very much, we also can't give an absolute and defined release date today - but this time, there is one change. We have now reached a point, where we can make a more accurate estimate of the subject disclosure, probably in near future. In other words:
We officially announce, that GTA United 1.2 will be completed in the year 2012 - and the exact date will be announced in the next official news
. At the end of this post, we go once again into detail about this subject, but let us first of all start with our latest achievements. You may know one or two of them due to the fact that
ATP
publishes on his Twitter account updates frequently to his current work on the mod. Nevertheless these contents are not everything that we have to offer, of course.
Shops & Interiors
The last news we announced was, that we will make any interior, that was present in GTAIII and GTA Vice City - accessible. After last time, where we were able to show great progress already, it now moves to the next round. In addition to many more things, a few highlights to mention are the Love Fist concert hall, the Greasy Chopper bar, aswell as Auntie Poulet's house. The interiors are equipped with collisions, so there are no bad objects that float, could pass through one or other the like.
New Interiors
New Shops
There are also some new added shops, that use an interior of San Andreas.
New Garages
Garages, Pay'n'Spray's, 8-Ball Shops, Tuning-shops, the mechanic's heart will not be disappointed.
New Scripts
In addition, we now have created scripts for objects, that were already presented in the previous news, so that they are lively and interactive. Even the purchase of objects, as shown, will be possible.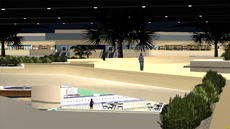 Also this time we have some impressions for you directly out of the game.
Gangs
The gangs of GTA III and VC are now completely present in version 1.2 of our modification. We are in this position because of a special script that we have created, that allows us to use more gangs than in GTA San Andreas. The gangs are now placed again in their areas.
It should be noted here, that not all gangs will directly appear in the game, an example would be to call the Diaz gang; the reason for this is, that they are simply not needed yet. That does not mean, that they are missing completely, they will be stored for any purpose in the game files so they can be used at any time. The new gang peds were converted from ManDog, the associated cars were converted by cj2000. We as the team want to thank both of these people very much. You guys did an outstanding job!
Other
In addition to the mentioned changes above, we have also added some other small improvements. This includes repaired zones, improved AT400 traffic script, completed statistics and new courier missions.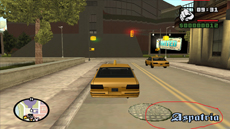 Closing Remarks
How does it go on from now? What are we planning to do and what are the things that prevent us from releasing the modification just today? Let's talk about the last point for first. We think - and we hope this got more clear after this news post - we have made good progress so far. Maybe the circumstances could have been better, maybe everything would have been faster, but it's not the time to talk about what may be. The point is that we are on a good way to present you a great piece of work - in scripting, in mapping, and in everything making a living modification. What still keeps us from showing you more details of our work - and be ensured that you have not yet seen everything - are mapping and modelling tasks. Aschratt is still working to fix several LOD- and collision issues around Liberty City (especially rooftops). To tell it in easy words, this means that the face of the modification is just not ready yet. It would be a great help if we could find someone who knows about mapping and modelling - also for one or two more tasks in this area. The sooner we are able to finish this part of the modification, the sooner we could release GTA United 1.2. We will be working on this subject matter until we, and hence later you as the players are satisfied with the whole project. But we can just ask for help, so if you want to be a part of the most innovative modification for GTA San Andreas this is your chance to join us! Anyway we will continue our work regarding the scripts. In this direction the modification isn't a bottomless pit any longer. Regarding the question, how the things will move on from now concretely, we shall now explain exactly, how we intend to make the publication of the modification official. We will stick to a 3-medal-system, that will visually illustrate the status of our modification.
Stage 1 - Bronze Status
Forecourt to completion
Basic background work has been completed. There have also been included a very large number of improvements and innovations in the modification.
The map is finished, at least as good as.
Stage 2 - Silver Status
Version 1.2 is nearly completed. From this point on, last-minute changes and corrections are made, from here on the the last major test phase begins.
With the silver status the official and effective promotion of version 1.2 begins.
Stage 3 - Gold Status
100 %, Completion.
The development of the modification GTA United 1.2 is completed.
1 week until the release
This system brings with it, that once we have reached this stage, we make it official. And this is, what we want to do. We will, as soon as we think we are ready, publish without significant preparatory work the messages, to keep you up to date. The reports of the Bronze and Silver status will not be written as a large independent news, rather than informational messages. The next big news will thus then be the last, the message about the gold status of the modification, so about the completion. Until then we plan to demonstrate our progress as before and not anylonger in intervals, so you always know what's going on.
Where are we now to our own estimate? And ultimately, how long does it take? Based on the system above, we are currently working hard to achieve the Bronze status. When will this be the case, cannot currently be said precisely, but we do what we can. In any case, the release will be this year, the sooner this can happen, the better, because we want to see our modification published aswell. We hope for your support on this modification, so that it can become, what we hope - an experience.
Links