After we have spend some work into the modification the last weeks it is up to time that we are going to present you our latest progress now. The time of waiting for version 1.2 isn't short anymore, we know that and yes, still we have to put off untill the release. But still we give our best to make this modification something what players like to play and what inspires a hand full of modders to continue modding GTA at least for some months.

Unfortunately we have some bad news for you at the beginning. The second Leader of the modification next Aschratt, AMD or earlier known under the synoym Chris Bernoit has quit the project because of personal reasons and stopped his work and activities around GTA United. Also he will not be responsible for supporting modders around at GTAinside any longer. We regret his decision. It will not less leave a technical hole as it leaves a personal one, too. We had much fun together with AMD and he was a competent and integrity person. We want to thank him alot at this point. Without him, LC2SA, and with it the big cooperation with VC2SA would have never could been realised. We will not forget you!

But this doesn't mean that we give up GTA United! We will continue the work, in which we invested already so much time now. May the vision we all have in our minds get reality. We still enjoy working on GTA United, so nobody needs to scare the end of it.

However we know how serious our situation may be. To counteract our loss of membership and bring back the stability in our project we have decided to do a huge step which has never been done in the history of this project before. From now on we are officially recruting new members to join our team and work together with us on the final version. If you are interested in GTA United and got some solid basic knowledge feel free to contact us via PM, ICQ, MSN or eMail. It does not matter what your strong fields are. We are searching good people in the field of scripting, mapping and modelling (including converting of map objects). So if you've got some basic work to show us then please link to it in your application to us. This will help us deciding either you are fit for the work in our team or not. We are glad about every request receiving us and hope we can continue our work soon with some new fresh members.

But let's switch over to the latest progress. As already applied a few times officialy we are about to do the big breakthrough in game stability. After 2 months of work we finally managed it to reorganize the whole ID logic behind the game. Those new ID-ranges allow us on the one side to find and fix most of the common bugs caused by duplicates and invalid map objects. Many from now on unused objects have been removed to create space for future projects. The structure of the whole map is more clear, now. On the other side we now have more space for cars, peds and weapons. Another big step was the port of almost any San Andreas interior which we have customized or fixed (those already existed). From now on it is not hard to add new shops like barbers, tattooshops, tuning garages, gyms, clothshops, and so on.

If we are already talking about shops we could also talk about the script. This one has been overworked now and got a completely new structure, a step which was unalterable after changing the ID backround. But there are many advantages in the new structure. The sourcecode now is more flexible for changes. This makes working on the script in a team more easy. Errors and crashes can be found and fixed more easily. New missions or scripts can be simply added, but also disabled for debugging reasons. It is even possible to disable various missions to test new code directly without beeing influenced by old one. Most you will not realy get in contact with those changes, but for us it makes working much easier and we hope to fix several bugs in this way.

In the field of graphics and artwork we decidet to release a collection of wallpapers. Together with MAL_ONE we created a unique pack of ingame image material which may help you to curtail the time waiting for version 1.2. The download is available at the download section. Enjoy it!

Last but not least we also got some screenshots for you. Killerstunter kindly agreed in creating a completely exclusive NRG500 skin. It will be part of the official download and you are able to install it optional. At this point we want to thank Killerstunter for his great job. Credits go to him: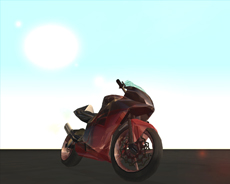 That was almost everything for this time. Perhaps you already recognized that we have updated our DevPage to the next version. Categories are gone from now on. They are replaced by so called "Threads" which we all are able to admister from the internal section. Also we can allways add updates there and upload pictures for posting. The smart start page allows you to keep an overview over the latest changes and updates. The internal area got some new great features making the mod organisation more easy for us.

Best wishes so far and enjoy some hot days,
Yours Grand Theft Auto United Team!