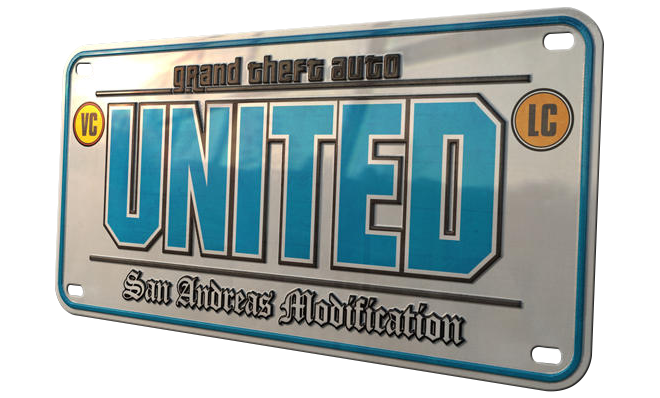 Version 1.2
It's time, after more than six years of development we are pleased, to be able to publish the Grand Theft Auto San Andreas modification "Grand Theft Auto United 1.2" at the present day. Since the last version - called Beta 1.1, which was officially downloaded over 400,000 times until now - we always had the goal to raise the modification to a whole new level. Many bugs have been corrected, which have been reported to us from the previous versions, there were implemented suggestions and ideas that we and fans of our modification had. We have invested a lot of work, time and effort to improve the new version of our modification in all aspects, in order to make it thus for many to one: an experience. May it be stability, interactivity or design, we put our heart and soul into these issues and hope to fulfill your expectations. On behalf of the entire team, which stands behind GTA United, all people who have helped us in this project and supported us - we wish you all a lot of fun with our new modification.
What is "Grand Theft Auto United 1.2"?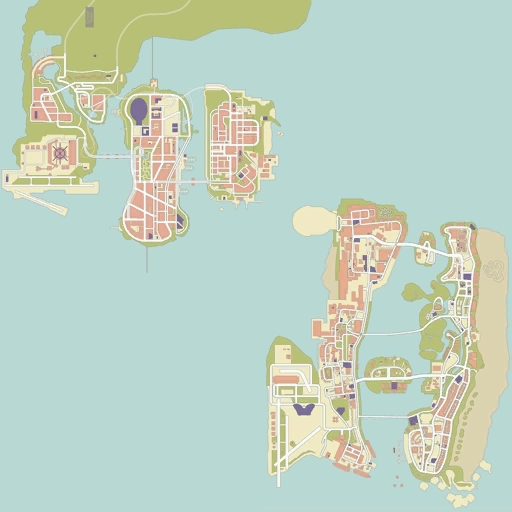 Grand Theft Auto United is a modification based on 'GTA San Andreas' for PC. The purpose of this modification is to unite in only one game the gaming areas, the so-called 'maps', of the two GTA games 'GTA III' and 'GTA Vice City', based on the graphics and physics engine of 'GTA San Andreas'. The map of 'GTA San Andreas' gets therefore replaced. A detailed report, what GTA United is actually about and what happened in the past of this modification, you can find
here
.
The Team
ATP
1.2 | Leading Developer
Scripting, Mapping, Modelling, Converting, Video Editing
LiveLife
1.2 | Leading Developer
Advising, Testing, Video Editing
cj2000
1.2 | Car Converting
ManDog
1.2 | Ped Converting
Over the years many people have contributed to the modification GTA United and they often also did their best to make the modification as good as possible. A complete overview on current and former team members can be found
here
.
GTA United 1.2 Release Trailer
Of course we can not publish version 1.2 of our modification without to publish any kind of special visualization. After ATP could introduce in March of last year with
this video
some of our new content, he now has made with the finished version a fantastic
new and official Release Trailer
for GTA United 1.2! We wish you lots of fun and we hope that this video can help to show, first, that we ourselves have a lot of fun with our modification and, second, that the trailer makes you want more!
(alternative:
Vimeo
)
Changelog
Bug Fixes
- Thousands of bugs in the maps
- Car-Crash Bug
- Non-functional shovel
- Saving and loading savegames
New Features
- All interiors of the two predecessor made accessible
- Added all the gangs of the two predecessor
- Installed dozens of shops, restaurants and other shops in the style of San Andreas
- The radio stations from GTAIII and GTA Vice City can now be imported and used
- There are a few side missions
- Ghosttown was added
- Many new secrets
A comprehensive and detailed list with images and videos you find
here
.
Download
- To install GTA United 1.2 please use a 100% clean, unmodded version of GTA San Andreas.
- The map of GTA San Andreas will be replaced with this modification, is thus no longer accessible after installing GTA United 1.2. For this reason, we strongly recommend you to make a copy of GTA San Andreas beforehand! You will be prompted for that by the installation routine aswell.
- For any problem, we ask that you
always
look under the following link first to see if your problem is described
here
. Should this not lead to the solution of the problem, you can ask us in our respective forums.
Download
Note of Thanks
There are actually so many people to enumerate, which we want to thank for their help, that this probably would blow over the given frame. We therefore want to thank highlighted only our two hosters GTAinside.com and gta-worldmods.de, through which we can ensure a fast download of this big modification, as well as Rockstar Games and Take Two for their terrific games! And for the concrete developer and former developer and supporter of the modification, we have created for all those an adequate framework within the modification, where we bring our thanks duly expressed. You're lonely peak!
At this point a quote from
LiveLife
(aka ColdDeath):
Hereby I would like to announce, that I have finished with GTA United 1.2 now my last GTA project. I will therefore be no longer able to serve as an contact person for GTA United, so in future if you should have any questions, please ask ATP. I am glad that I was able to participate on GTA United for such a long time, even if I had not held a position where it comes to the actual modding at any time. The ultimate modding and thus the most important thing, has been furnished in my eyes in special dimensions of two people, who have made tremendous efforts and contributions, contributions without the entire modification would not have been possible to realize, and these two people are
Aschratt
and
ATP
. While each developer has made his contribution, these two have done outstanding work that made me not only a few times speechless. Both of you are the madness! It was my pleasure!
Closing Remarks
Fun. This word can describe many things, if we as a team look back on our work, our little world, which is both so familiar and yet it never existed in such a form before. From an initially fresh idea, to bring the individual maps of Vice City and Liberty City to San Andreas, to the present day, where we can present what is more than just the sum of the previous items - it was a long road we had to go, there were to overcome many obstacles and all sorts of problems had to be solved. And yet we here and today agree that this way has been worth it, to be followed, always with the goal in mind to create something that meets the intent of each game and each modification: to spread fun and joy. A game which pursues this goal, must combine many aspects in itself, it must offer besides technical aspects such as stability and efficiency also freedom to interact with the content of a game, or in other words, diversity is one of the most important aspects of a game. And this was always our intention, what we wanted to achieve with version 1.2. So now finally it is like this, the day of the release has come! We - the entire team of GTA United and all those who have supported us - wish you all a lot of fun with our new modification "Grand Theft Auto United 1.2".
Grand Theft Auto United 1.2
© Copyright 2012 | GTA United Development Team