It's done, the next official news to GTA United 1.2 is ready to be pusblished. We hereby officially announce with joy that our modification has reached the Bronze Status. In the last news from March 21st, 2012 we had presented the system with which we want to illustrate the way to the final completion of our modification. Let's take another look at the overview.

Stage 1 - Bronze Status
Forecourt to completion
Basic background work has been completed. There have also been included a very large number of improvements and innovations in the modification.
The map is finished, at least as good as.
Stage 2 - Silver Status
Version 1.2 is nearly completed. From this point on, last-minute changes and corrections are made, from here on the the last major test phase begins.
With the silver status the official and effective promotion of version 1.2 begins.
Stage 3 - Gold Status
100 %, Completion.
The development of the modification GTA United 1.2 is completed.
1 week until the release
As we now announce pleased we were after seemingly never-ending work finally able to complete the work on the map, which can be considered a major milestone in the development of the modification. This work included alongside the integration of many savehouses, shops, restaurants and interiors ("inside levels") also new secrets, which were incorporated into the modification. But this is not enough, just as thousands of bugs regarding the map have been fixed. At this point, we however do not claim to have absolutely fixed 100% of the bugs, or in other words, that the map will be perfect in every aspect; this is not feasible given the level of our modification and our small team. But let's just say - we are extremely satisfied with what we have achieved, given the initial position of beta 1.1. Version 1.2 is not an update ... it's a new experience. A totally new modification! And this gives us confidence to fulfill the hopes regarding our modification in every aspect.
To be precise, these changes have been implemented since the last news:
New shops and savehouses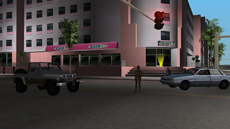 Miscellaneous map fixes
At this point we have to make a further announcement official. Aschratt, our longtime lead developer and founder of the modification in its origins has left the team for the development of GTA United 1.2 due to time constraints. This, however, has no further relevance for the completion of version 1.2 because this step has happened some time ago and we are ready for this. We keep our word and now in less than two months we will publish 1.2. At this point we would like to thank Aschratt for his long devotion to this modification by the entire team. Your works are stunning Aschratt and there are not many in the world of GTA modding, which can be called with you in the same breath. Thank you for everything. You are awesome.
What's next?
Given the fact that between the last news "It's Gotta Be Love" and the current Stage 1 announcement half a year has passed, it might give the impression that until the completion of version 1.2 still a lot need to be done and this will take quite a while - which will not be the case. Our plan is to release later this year and accordingly, the last two stages can be achieved more quickly. The exact release date can not be announced this time, but the way is clearly indicated. According to the definition outlined the release date of GTA United 1.2 will exactly be announced with the Stage 3 - gold status news message. With publication of this message everything will be resolved and we will then also apply correspondingly to the public. Now for us remains only to say: until Stage 2 - Silver Status news! Support us! Help us! Please do have one last time a little patience.
GTA United 1.2 is coming...